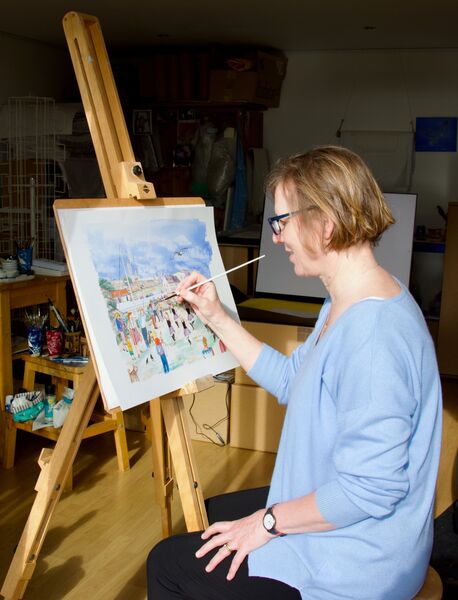 People often consider my artwork as being reflective, yet lighthearted. It has small detail, portraying stories, especially of how the local animals and birds relate to people going about their everyday lives. Each scene exemplifies how we all fit into the world together.
I have always drawn and painted. Initially, my career was in the motor industry before becoming a Lean Manufacturing Consultant. I worked in Europe and beyond, particularly Japan.
Although successful, I craved a life closer to nature and one where I could enjoy painting it, rather than drawing bits of cars. I therefore left industry in the early 2000's to study for a BA (Hons) in Fine Art at Central St. Martin's, University of Arts, London, graduating with a First.
Whilst living in South East England, my art focused mainly on oil on linen paintings of people, horses and other animals. I exhibited in London, the Home Counties and Europe.
In 2013, I moved to the pretty Kingdom of Fife. The coast is picturesque and has inspired my paintings of quaint local houses, quirky wildlife and passing people. Like the sea, these create the ebb and flow of everyday life by the coast. All the people and animals that live or visit become part of the landscape. To best capture these images, my preferred media is watercolour.
My studio overlooks the Isle of May and Bass Rock, two rocky islands that tower out of the Firth of Forth. In the summer both islands are home to an array of visiting seabirds, such as the comical puffins, grumpy looking gannets and noisy gulls. These birds, and many others, often make appearances in my paintings.
I exhibit and sell my artwork regularly at exhibitions and events throughout Fife. Additionally, I continue to undertake commissions, in both watercolour and oil on linen.
Please use my
contact form
to enquire..